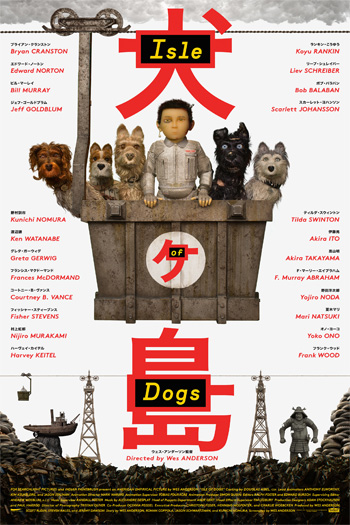 Adventure
1 HR 56 MIN
Release:Apr 13, 2018
* No Passes Or Discounts *
In Theatres Apr 13, 2018
To Preorder Tickets for this movie, please select the theater you would like to purchase tickets for.
Allen 8
Durango Stadium 9
Telshor 12
Trailer
Movie Details
Cast: F. Murray Abraham, Bob Balaban, Bryan Cranston, Greta Gerwig, Jeff Goldblum, Akira Ito, Scarlett Johansson, Harvey Keitel, Frances McDormand, Bill Murray, Mari Natsuki, Yojiro Noda, Edward Norton, Yoko Ono, Liev Schreiber, Fisher Stevens, Tilda Swinton, A
When, by executive decree, all the canine pets of Megasaki City are exiled to a vast garbage-dump called Trash Island, 12-year-old Atari sets off alone in a miniature Junior-Turbo Prop and flies across the river in search of his bodyguard-dog, Spots. There, with the assistance of a pack of newly-found mongrel friends, he begins an epic journey that will decide the fate and future of the entire Prefecture.
PG-13 for thematic elements and some violent images.
Comments