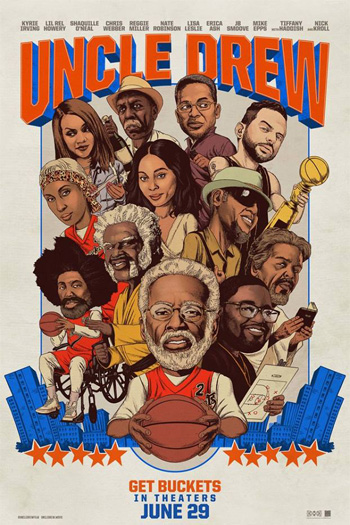 Comedy
1 HR 58 MIN
Release:Jun 29, 2018
In Theatres Jun 29, 2018
To Preorder Tickets for this movie, please select the theater you would like to purchase tickets for.
Video 4
Trailer
Movie Details
Director: Charles Stone III
Cast: Nick Kroll, Kyrie Irving, LilRel Howery, Erica Ash, Shaquille O'Neal, Reggie Miller, Lisa Leslie, Nate Robinson
After draining his life savings to enter a team in the Rucker Classic street ball tournament in Harlem, Dax (LilRel Howery) is dealt a series of unfortunate setbacks, including losing his team to his longtime rival (Nick Kroll). Desperate to win the tournament and the cash prize, Dax stumbles upon the man, the myth, the legend Uncle Drew (NBA All-Star Kyrie Irving) and convinces him to return to the court one more time. The two men embark on a road trip to round up Drew's old basketball squad (Shaquille O'Neal, Chris Webber, Reggie Miller, Nate Robinson, and Lisa Leslie) and prove that a group of septuagenarians can still win the big one.
PG-13 for suggestive material, language and brief nudity.
Comments