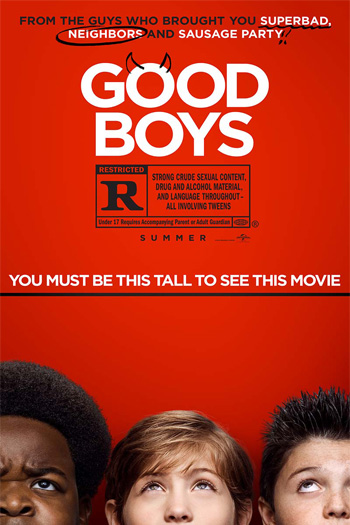 Comedy
1 HR 44 MIN
Release:Aug 16, 2019
In Theatres Aug 16, 2019
To Preorder Tickets for this movie, please select the theater you would like to purchase tickets for.
Telshor 12
Las Cruces
Trailer
Movie Details
Director: Gene Stupnitsky, Lee Eisenberg
Cast: Jacob Tremblay, Brady Noon, Keith L. Williams, Molly Gordon, Midori Francis, Will Forte
Invited to his first kissing party, 12-year-old Max asks his best friends Lucas and Thor for some much-needed help on how to pucker up. When they hit a dead end, Max decides to use his father's drone to spy on the teenage girls next door. When the boys lose the drone, they skip school and hatch a plan to retrieve it before Max's dad can figure out what happened.
R for strong crude sexual content, drug and alcohol material, and language throughout - all involving tweens.
Comments