Murder Capital of the World
NR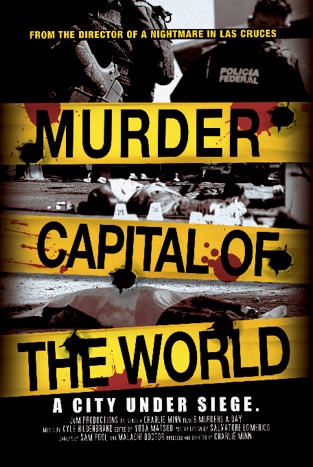 Documentary
1 HR 44 MIN
Release:Feb 17, 2012
In Theaters Feb 17, 2012
Movie Details
Cast:
INTERVIEWEES -Charles Bowden-author of many Juarez books, Molly Molloy-historian, Tony Payan-UTEP professor, Howard Campbell-UTEP Professor, Daniel Borunda-El Paso Times, Diana Washington-Valdez-author:"Mexican Roulette-Last Cartel Standing", Hector Murgu
This eighty-five minute film examines the most significant moments from Ciudad Juarez in 2011, with the murder rate being down 35 percent as the most important.
Other major events include: Julian Leyzaola Perez, the controversial new police chief, the pot-smugging explosion, and the critical upcoming 2012 Presidential election in Mexico, where a female has reached the final three.(Josefina Vazquez Mota)
The "good" of Juarez is also featured. Interviews with respected UTEP professors, acclaimed authors, historians and seasoned journalists encompass the film.
Comments