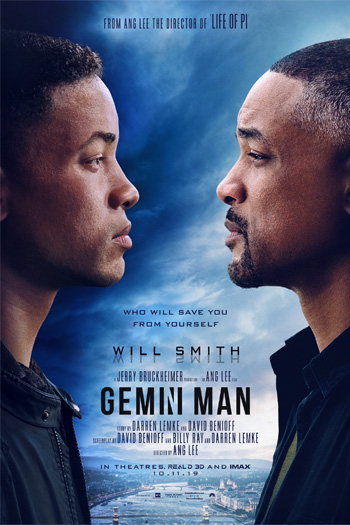 Thriller
2 HR 12 MIN
Release:Oct 11, 2019
In Theatres Oct 11, 2019
Trailer
Movie Details
Cast: Will Smith, Mary Elizabeth Winstead, Clive Owen, Benedict Wong
Gemini Man is an innovative action-thriller starring Will Smith as Henry Brogan, an elite assassin, who is suddenly targeted and pursued by a mysterious young operative that seemingly can predict his every move. The film is directed by Academy Award®-winning filmmaker Ang Lee and produced by renown producers Jerry Bruckheimer, David Ellison, Dana Goldberg and Don Granger. Also starring are Mary Elizabeth Winstead, Clive Owen and Benedict Wong.
3D+ in HFR (high frame rate) is an evolutionary digital format with a frame rate of 60 frames per second - more than double the traditional movie frame rate - giving audiences an amplified, fully-immersive 3D experience. With 60 3D images projected every second, derived from a pristine 120 fps master, 3D+ in HFR renders images closer than ever before to what the human eye sees, putting the viewer right in the center of the action.
PG-13 for violence and action throughout, and brief strong language.
Comments