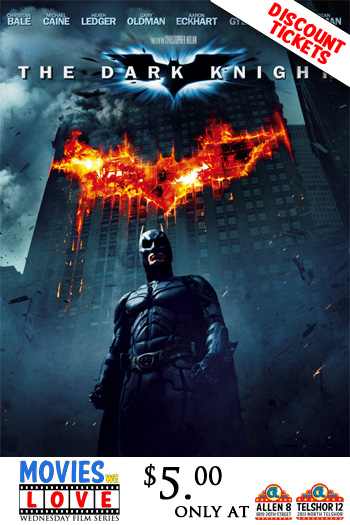 Adventure
2 HR 47 MIN
Release:Aug 17, 2022
In Theatres Aug 17, 2022
To Preorder Tickets for this movie, please select the theater you would like to purchase tickets for.
Playing at:
Trailer
Movie Details
Director: Christopher Nolan
Cast: Christian Bale, Heath Ledger, Morgan Freeman, Michael Caine, Gary Oldman, Aaron Eckhart, Maggie Gyllenhaal, Eric Roberts, Anthony Michael Hall, Nestor Carbonell, Melinda McGraw, Nathan Gamble, Michael Jai White
The follow-up to the action hit "Batman Begins," "The Dark Knight" reunites director Christopher Nolan and star Christian Bale, who reprises the role of Batman/Bruce Wayne. In the new film, Batman raises the stakes in his war on crime. With the help of Lieutenant Jim Gordon and District Attorney Harvey Dent, Batman sets out to dismantle the remaining criminal organizations that plague the city streets. The partnership proves to be effective, but they soon find themselves prey to a reign of chaos unleashed by a rising criminal mastermind known to the terrified citizens of Gotham as The Joker.
Rated PG-13 for intense sequences of violence and some menace.
Comments