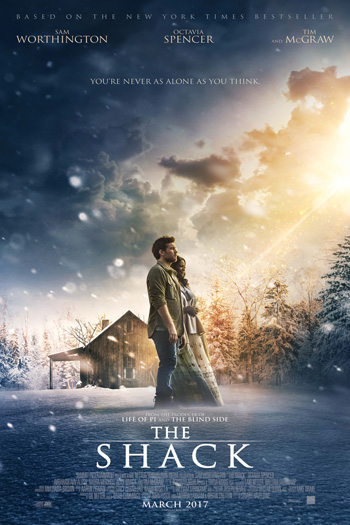 Drama
2 HR 24 MING
Release:Mar 3, 2017
Now Playing at:
Video 4
Trailer
Movie Details
Director: Stuart Halzeldine
Cast: Tim McGraw, Radha Mitchell, Sam Worthington, Octavia Spencer
Based on the New York Times best-selling novel, The Shack takes us on a father's uplifting spiritual journey.
After suffering a family tragedy, Mack Phillips [Sam Worthington] spirals into a deep depression causing him to question his innermost beliefs. Facing a crisis of faith, he receives a mysterious letter urging him to an abandoned shack deep in the Oregon wilderness. Despite his doubts, Mack journeys to the shack and encounters an enigmatic trio of strangers led by a woman named Papa [Octavia Spencer]. Through this meeting, Mack finds important truths that will transform his understanding of his tragedy and change his life forever.
PG-13 for thematic material including some violence.
Comments