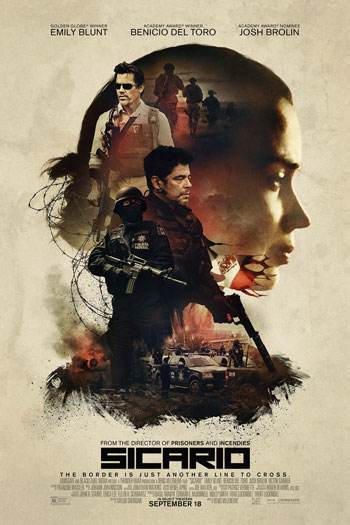 Drama
2 HR 16 MIN
Release:Oct 2, 2015
In Theatres Oct 2, 2015
To Preorder Tickets for this movie, please select the theater you would like to purchase tickets for.
Video 4
Trailer
Movie Details
Director: Denis Villeneuve
Cast: Emily Blunt, Benicio Del Toro, Josh Brolin, Victor Garber, Jon Bernthal
In Mexico, Sicario means hitman. In the lawless border area stretching between the U.S. and Mexico, an idealistic FBI agent (Emily Blunt) is enlisted by an elite government task force official (Josh Brolin) to aid in the escalating war against drugs. Led by an enigmatic consultant with a questionable past (Benicio Del Toro), the team sets out on a clandestine journey forcing Kate to question everything that she believes in order to survive. A Lionsgate presentation, a Black Label Media presentation, a Thunder Road production, a Denis Villeneuve film.
Comments