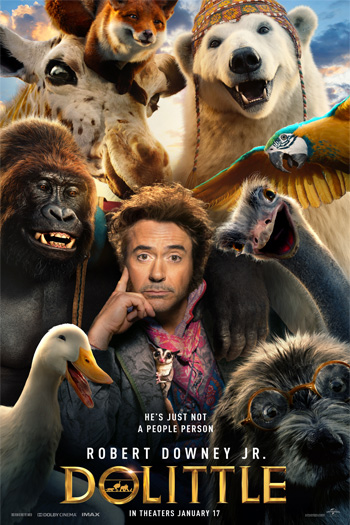 Adventure
1 HR 56 MIN
Release:Jan 17, 2020
In Theatres Jan 17, 2020
Trailer
Movie Details
Cast: Robert Downey Jr., Antonio Banderas, Michael Sheen, Jim Broadbent, Jessie Buckley, Harry Collett, Rami Malek, Octavia Spencer, Kumail Nanjiani, John Cena, Marion Cotillard, Tom Holland, Selena Gomez, Ralph Fiennes, Emma Thompson
Dr. John Dolittle lives in solitude behind the high walls of his lush manor in 19th-century England. His only companionship comes from an array of exotic animals that he speaks to on a daily basis. But when young Queen Victoria becomes gravely ill, the eccentric doctor and his furry friends embark on an epic adventure to a mythical island to find the cure.
In compliance with CDC Public Health Order 3.15.20, we have blocked off seats to ensure no showtimes will exceed 50 customers.
PG for some action, rude humor and brief language.
Comments